5th Annual Autumn Concert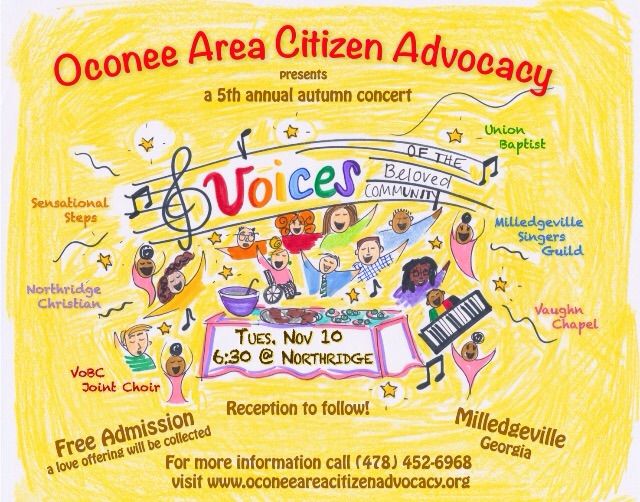 Citizen Advocacy is set to host its 5th annual autumn fundraiser concert on Tuesday, November 10th at 6:30 p.m. at Northridge Christian Church. This year's concert will feature performances by Vaughn Chapel, The Milledgeville Singers Guild, Northridge, Union Baptist, Sensational Steps dancers, and the Voices of the Beloved Community joint choir representing Green Pastures, Flagg Chapel, Powell Grove (Sparta), and more.
The concert began in 2011 as a small outdoor event on a Sunday afternoon at the Greenway. It has since bloomed into a large-scale production that draws on the gifts and generosity of a very unique a powerful blanket of citizens in the Milledgeville-Baldwin area. "Why can't this happen more often?" is a phrase that is repeated time and time again after each year's program. "This is how it is supposed to be." The event brings an almost tangible sense of unity while honoring the 32-year tradition of local people saying 'yes' to standing with and on behalf of another person in a citizen advocacy relationship.
Each group will perform an individual song selection and the show will open and close with collaborative pieces bringing forth all voices. There is no admission fee for the show but a love offering will be collected.
Citizen advocates are not volunteers to a program, but ordinary people who freely choose to get to know another person living in their community who is developmentally disabled and living a harder life. Having relationships and friendships outside of the world of disability services can make a difference in whether someone spends their life in isolation and be potentially life saving.
To find out more information or to volunteer to help out with the concert, contact Brittany Curry at (478) 452—6968.