Autumn Concert Press Release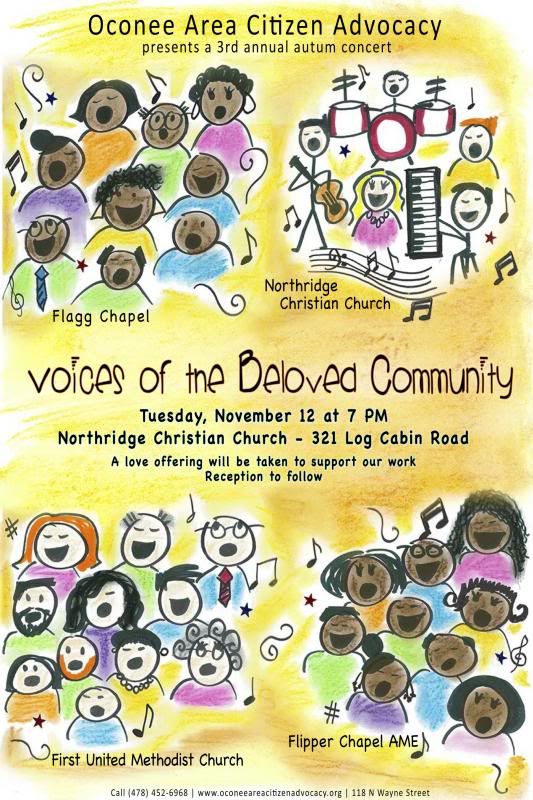 CHOIRS COLLABORATE FOR THIRD ANNUAL AUTUMN CONCERT

Milledgeville, GA — Oconee Area Citizen Advocacy is set to host its third annual autumn fundraiser concert, Voices of the Beloved Community, featuring musical performances by Flagg Chapel, Northridge Christian Church, Flipper Chapel AME, and First United Methodist Church. The event will take place on Tuesday, November 12 at 7 PM at Northridge Christian Church on Log Cabin Road.
"Citizen Advocacy is a vehicle for bringing people to the table—people who otherwise ordinarily would not have been asked to get to know one another," said Jeanette Waddell, co-coordinator of OACA. "We are in the third year of building the tradition of the autumn concert, and we are so excited to invite the community to join us for this evening of musical collaboration from some of the best church choirs in our area."
For the second year in a row, Flipper Chapel's Fresh Anointing Liturgical Dance Ministry will also take part in the performance. There is no charge for admission, but a love offering will be collected to support the work of Citizen Advocacy. A reception will follow.
Currently celebrating 30 years of history in Baldwin County, Citizen Advocacy is a grassroots community organization that exists to provide protection and advocacy for people with developmental disabilities by introducing them to ordinary citizens who will act as their spokesperson and ally.