The Gardens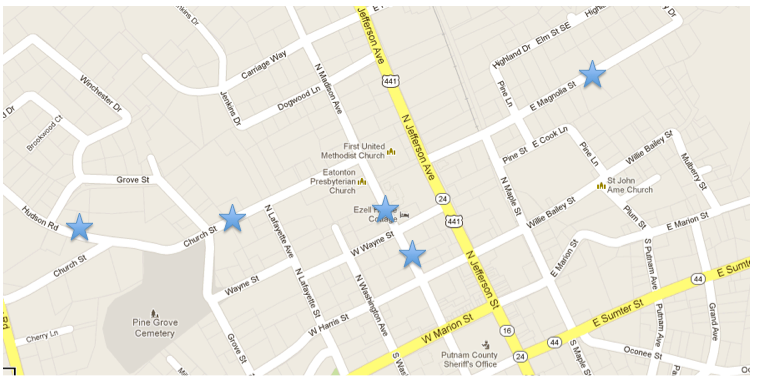 Map of Garden Sites in Downtown Eatonton
203 Church Street
A blank canvas for art is what my yard was six years ago. In six years I have created a "peaceful" area that includes water, rock and plants of many colors. The area changes in color for each season and is always evolving. I think of form, style and even rhythm while trying to continually plant and experiment with many types of landscaping. My koi pond has attracted and become a natural habitat for wildlife including many birds. I hope you appreciate my "backyard oasis" as a musical composition of nature and art.
206 N Madison Avenue
Bob Holland's property is most accurately described as a Grecian garden. Boxwood hedges delineate a formal setting of statuary, sundials, bird baths, stone paths and other classical garden ornament. The garden is centered on a reflecting pool surrounded by seating and also features a large koi pond. Visitors can escape from our Georgia heat into this cool, serene setting.
107 Hudson Road
Constructed in 1811 by Virginia native Christopher Strong, the Strong-Davis-Rice-George House is thought to be one of the oldest in Eatonton. The garden is framed by boxwoods that enclose borders remindful of an English country garden when foxgloves, roses, and other perennials are blooming in the spring. The garden is best known for the masses of daffodils and Roman hyacinths planted in a park-like setting of old pecan trees that begin blooming in February. Entrance to the Secret Garden Room is through a new garden building designed in the Colonial Revival style by the owners, who started the garden ten years ago with only the outline of the boxwoods and a few surviving shrubs.
310 E Magnolia Street
Master Gardener Joye Hancock's two-acre garden is known in our Putnam/Baldwin area as containing one of the most creative and unusual garden ornament designs. Acquiring the garden in 2006, Joye has filled her perennial borders, walkways, entrances and porches with "stuff" she has discovered at yard sales, flea markets, charity resale stores and Eatonton curbsides. Visitors will be amazed at what has caught Joye's eye and been nestled among the colorful plantings on her property. In addition to traditional arbors and trellises, you will discover a child's crib, a copper tub, a baritone horn, old garden implements, an iron bedstead with a "quilt" of flowers, a bicycle, a bowling ball, broken china, work boots, to name but a few repurposed items. She also utilizes the trunks of cut-down trees as focal points. Her garden has been featured in a Power Point Master Gardener presentation on Garden Ornament. Her rule is: "I acquire what I like and put it anywhere it fits." Athough she feels "You cannot hurry a garden," she can always find room for "one more plant" and finds that digging in the dirt "is good for me."
300 N Madison Avenue
"The most notable feature of this garden is the boxwood parterre at the rear of the house. Having seen the gardens at Versailles, Keith Rowell was determined to have something similar, and so the 800 boxwoods were planted in the pattern you see today. The layout of the parterre and the brickwork were designed by Keith. His admiration of the English countryside inspired him to plant 400 Spanish bluebells in the wooded area, which create a blue carpet in April. In mid-March the front lawns and verges are a mass of blue star flowers which Keith refuses to compromise with lawn care chemicals".
HOW TO BUY TICKETS